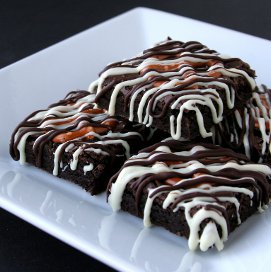 Ingredients
1/2 cup unsalted butter
1/3 cup semi sweet chocolate chips
1 cup sugar
2 eggs, room temperature
1 teaspoon vanilla
1/3 cup dark cocoa powder
1/2 cup flour
1/4 teaspoon salt
1/4 teaspoon baking powder
--For the topping:
12 mini pretzel twists
1/4 teaspoon coarse sea salt
1/3 cup semi sweet chocolate chips
1/3 cup white chocolate chips
1/2 teaspoon vegetable oil, divided
Instructions
Preheat your oven to 350 degrees F. Grease a 11x7-inch baking dish.
In a medium sized mixing bowl, stir together the cocoa powder, flour, salt and baking powder with a whisk.
Melt the butter and add to a large mixing bowl. Add a 1/3 cup semi sweet chocolate chips and stir with a whisk until they begin to melt. Add the sugar and whisk until combined. Add the vanilla and whisk in the eggs, one at a time. Stir in the dry ingredients.
Pour the batter into your prepared pan. Top with the pretzels, leaving space between each pretzel to cut the brownies out around them. (Each brownie will have one whole pretzel.) Top lightly with a sprinkle of coarse sea salt.
Bake for 20-25 minutes. Remove them from the oven when the center is still slightly underdone and allow them to cool completely on a cooling rack.
In two separate bowls, melt the white chocolate chips and semi sweet chocolate chips in the microwave. To each bowl, add 1/4 teaspoon vegetable oil. Stir until smooth. In two separate zipper bags, pour in the chocolates. Snip the end off of the white chocolate and drizzle over the brownies. (I like to do this after the brownies are cut while they are on a cooling rack hanging over the kitchen sink.) Finish off the brownies by drizzling them with the semi sweet chocolate.