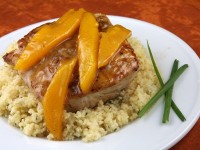 INGREDIENTS:
4 (6 ounce)
Mahi Mahi fillets
1 large

lemon

, juiced
(divided)
salt and pepper, to taste
1/3 cup
all-purpose flour
4 Tablespoons

butter

, divided
1 teaspoon
vegetable or canola oil
1/2 cup
dry white wine
1/2 cup
chicken broth
1 large

mango

, soft & fresh, peeled and sliced into long pieces
DIRECTIONS:
1. Drizzle fish lightly with a little bit of the lemon juice. Sprinkle with salt and pepper; then dust with flour
2. Heat 2 Tablespoons butter and oil in skillet on medium. Sauté fish for 3 to 4 minutes on each side. Remove from skillet and cover to keep warm.
3. Add remaining 2 Tablespoons butter, wine, broth, and lemon juice to skillet (no need to wipe it clean) and cook over medium-high heat until all ingredients are reduced (about 20 minutes). Add mango slices and heat through. Toss fish gently in skillet until warmed and cooked through. You can place the lid back on for a while, simmer and let the mangoes release their juices to create a wonderful, sweet and tangy sauce.
4. Place fish on serving platter, top with mangoes and sauce and serve immediately.
TIPS:
*If you are preparing this recipe as GLUTEN FREE, substitute GF flour for the all-purpose flour, and make sure you are using a brand of chicken broth that is designated as GF.
*This dish goes well with an almond rice pilaf or couscous.
The original reciepe is from : http://www.recipegirl.com/2006/10/02/mahi-mahi-with-white-wine-and-fresh-mangoes/