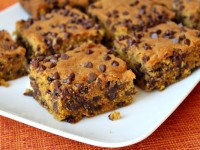 INGREDIENTS:
2 cups Gold Medal® All-Purpose Flour
1 Tablespoon pumpkin pie spice
1 teaspoon baking soda
3/4 teaspoon salt
1 cup (2 sticks) unsalted butter, room temperature
1 1/4 cups granulated white sugar
1 large egg
2 teaspoons vanilla extract
1 cup canned pure (unsweetened) pumpkin purée
One 12-ounce package mini chocolate chips
DIRECTIONS:
1. Preheat oven to 350°F. Line bottom and sides of a 9x13-inch baking pan with foil, leaving an overhang on all sides.
2. In a medium bowl, whisk together flour, pie spice, baking soda, and salt; set aside.
3. With an electric mixer, cream butter and sugar on medium-high speed until smooth; beat in egg and vanilla until combined. Beat in pumpkin purée (mixture may appear curdled). Reduce speed to low, and mix in dry ingredients until just combined. Fold in chocolate chips.
4. Spread batter evenly in prepared pan. Bake until edges begin to pull away from sides of pan and a toothpick inserted in center comes out with just a few moist crumbs attached, 35 to 40 minutes. Cool completely in pan.
5. Lift cake from pan (using foil as an aid). Peel off foil, and use a serrated knife to cut into 24 squares.
TIPS:
*If you can't find pumpkin pie spice, substitute 1 1/2 teaspoons cinnamon, 3/4 teaspoon ginger, 1/2 teaspoon nutmeg, and 1/2 teaspoon each allspice and cloves.
*Make sure the cake has cooled completely before cutting. Sometimes it's easier to get nice, clean cuts if it is chilled in the refrigerator for a while first.
Original recipe: http://www.recipegirl.com/2013/11/08/pumpkin-chocolate-chip-squares-2/